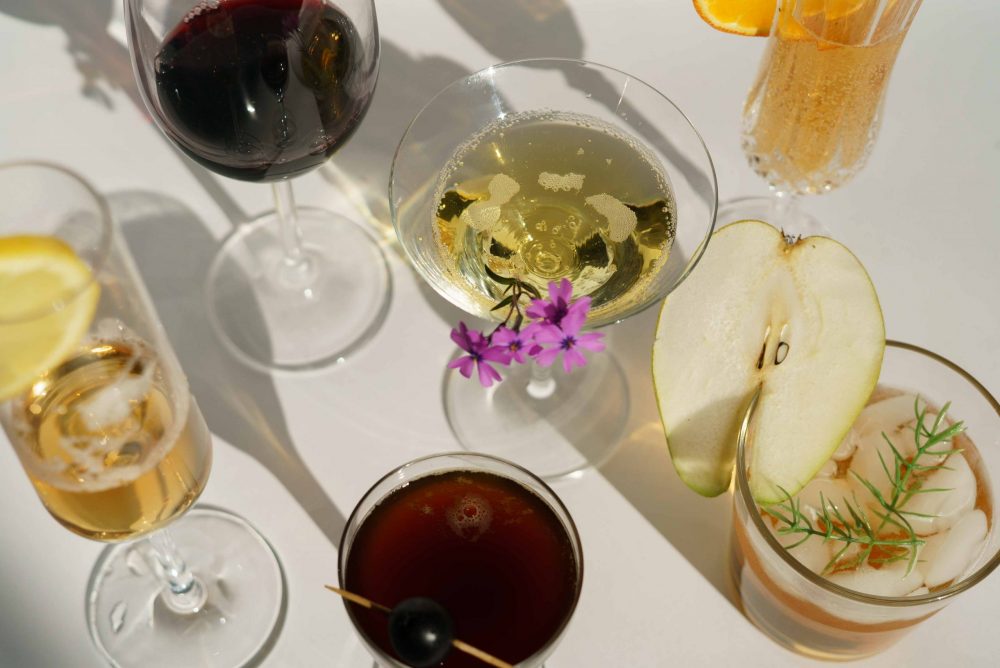 Sweet Cocktails for the Sweet-Toothed Drinkers
Alcohol doesn't always have to involve punches, kicks, and a bitter aftertaste. There are plenty of sweet, fruity, and floral alcoholic drinks to accommodate palates that long for something lighter. Just because these drinks are on the more "girly" side, doesn't mean that they can't be boozy! A pretty presentation can still be paired with a robust taste. Looking for the perfect refreshing drink? Here are just some of our favourite sweet cocktail recipes that you can make at home.
Cosmopolitan
You can't go wrong with a good Cosmo. Notorious for its bright pink shade, this drink has a large following thanks to the TV series Sex and the City. Be part of the girl gang and fashion your own Cosmo at home with these ingredients.
You'll need:
Vodka
Cointreau
Cranberry juice
Lemon juice
Maple syrup or simple syrup
Lime wedge
Lime wheel (for garnish)
Best thing about this drink is, all you need to do is throw all the liquids together in a shaker with some ice! Shake well and strain into a martini glass. Garnish with the lime wheel if you wish, and voila! You've got yourself an ice-cold Cosmo.
Ingredients available at Red & White:
Strawberry Daiquiri
Sticking to the theme of pink drinks, strawberry daiquiri is another one you can fashion for a get-together with friends. It's fun and easily customisable. You also have the option of making a regular daiquiri or a frozen one. It all depends on whether you want a slushie consistency or not!
To make your own strawberry daiquiri, you'll need:
Frozen strawberries
White rum
Simple syrup
Lime juice
Ice
Kosher salt
Ready for the instructions? Simply blend all your ingredients in a blender and serve!
Ingredients available at Red & White:
Captain Morgan Original Spiced Silver Rum
Plantation 3 Stars White Rum
Mudslide
Here's a dessert drink for the chocolate lovers out there. This decadent combo will satisfy any sweet toothed person. Just like the daiquiri, you can make a frozen mudslide or a classic one.
All you need is:
Coffee liqueur
Irish cream
Vanilla ice cream (frozen mudslide), or heavy cream (classic mudslide)
Ice
Chocolate syrup for presentation
To make a frozen mudslide, combine all liquid ingredients in a blender and blend until smooth. Pour it out into a glass and serve.
For a classic mudslide, liquid ingredients go into a shaker with ice. Shake thoroughly and strain into a cocktail glass.
Ingredients available at Red & White:
Smirnoff Vodka
Baileys Irish Cream
Little Kiss coffee liqueur
Aperol Spritz
Combining sweet with sour notes, the Aperol spritz should be on your list of go-to summer cocktails. It's easy, and it's vibrant in both colour and taste.
Make your own Aperol spritz at home with:
Aperol
Sparkling wine
Soda water
Ice
Orange wedge
It's as simple as stirring Aperol and ice together and topping up with soda water and sparkling wine! Squeeze in a wedge of orange and use it to garnish.
Ingredients available at Red & White:
Zilzie Regional Prosecco
Delamotte Brut NV Champagne
Brandy Alexander
Taking the sweetness of brandy and creaminess of Crème de Cacao, the Brandy Alexander is a boozy cocktail you're sure to love.
Ingredients you'll need to make a Brandy Alexander are:
Heavy cream
Crème de Cacao
Grated nutmeg for garnish
Into a cocktail shaker with ice, add in your liquid ingredients. Shake until the liquid gets cold. Strain into a cocktail glass and garnish with the grated nutmeg over the top. Enjoy this drink which will taste almost like boozy chocolate cake in your mouth! Who wouldn't want that?
Ingredients available at Red & White:
Bisquit & Dubouché VSOP Cognac
Hennesy VSOP Cognac
Bushwacker
The name of this next drink may sound odd, but it definitely won't confuse your palate! In fact, it's a straight-up dessert heaven in your mouth.
Put together a glass of Bushwacker with:
Aged rum
Crème de cacao
Kahlua
Cream of coconut
2% ice
Ice
Grated nutmeg or shaved chocolate for garnish
Cherry for garnish (optional)
Whack all the ingredients into a blender (save for the garnish of course!). Blend until everything is incorporated and transfer into a tall glass. Grate a nutmeg over the surface, or shave some chocolate. A cherry on top, and you have yourself a Bushwacker.
Ingredients available at Red & White:
Bacardi Carta Oro Gold Rum
Angostura 5 Years Rum