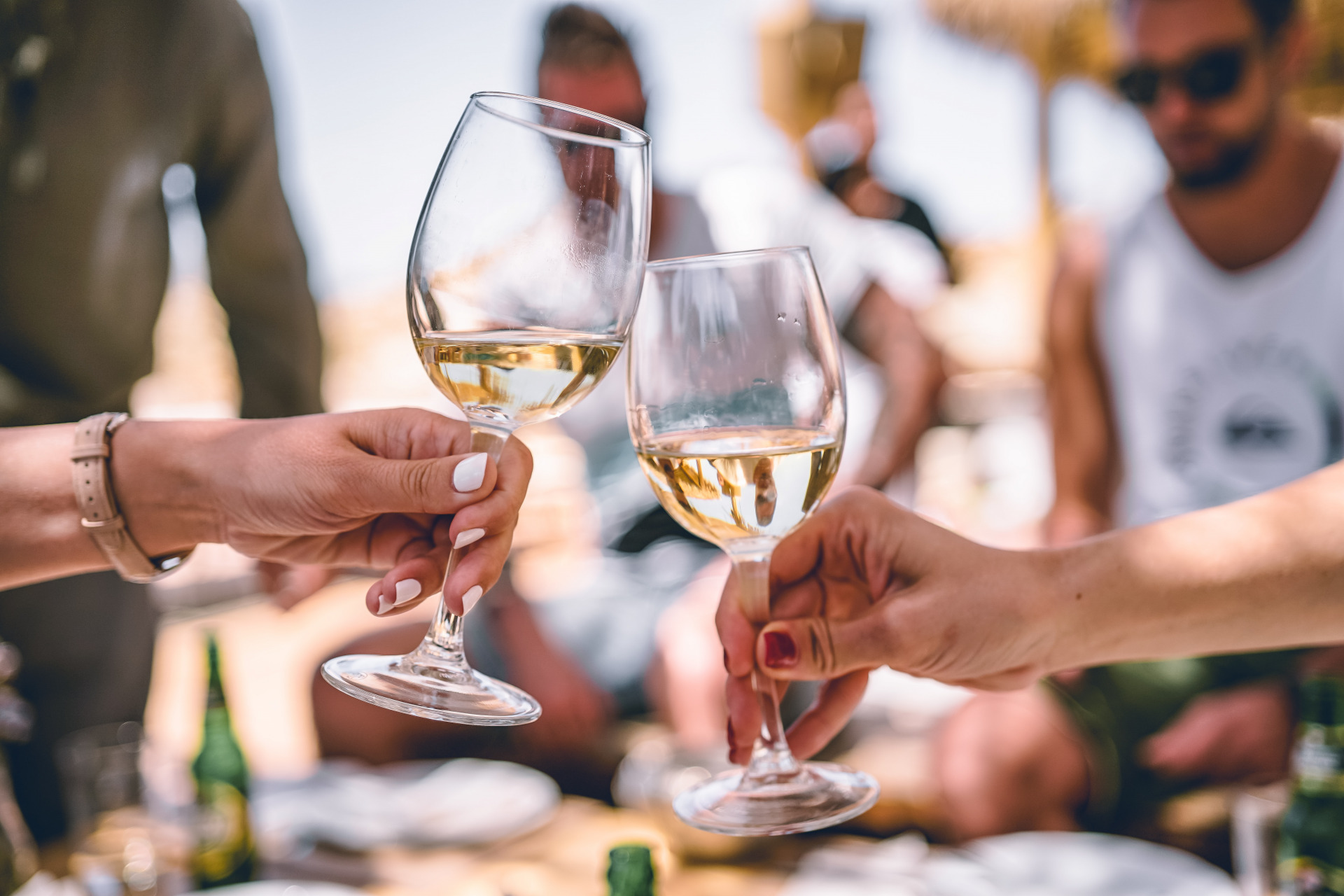 The Most Important Rules for Drinking Wine
Drinking wine has been associated with sophistication, and some of you might be reluctant to drink this alcoholic beverage due to the rules and etiquettes that come with it. Honestly, you don't need to pressure yourself with the question 'Have I been drinking wine in the right way?'. 
Still unsure and not convinced yet? Just follow these simple rules of thumb, and you don't need to worry about drinking wine in the wrong way.
Before we go to the rules, we suggest you read our article about "10 Unique Facts You Might Not Know About Wine" so you get new insight into wine.
1. You Absolutely Can Drink Wine Anytime and Anywhere!
Wine has been seen as a very elegant, fancy, and sophisticated drink. There is a common belief that wine can only be enjoyed on special occasions, high-end restaurants, or in intellectual discussions. This belief of course isn't true at all! You can drink your wine anytime and anywhere you want! 
People in Italy and the South of French typically enjoy drinking wine for casual dinner or lunch. So, if you like drinking wine alone in the comfort of your home or a downtown bar, then, by all means, do so!
2. Don't 'Freeze' Your Wine!
A too cold or even too warm wine can result in a dull taste that will certainly ruin your experience in enjoying this sweet alcoholic beverage! Before drinking wine, you can always chill it first for several minutes in the fridge or just put your red or white wine in a bucket of ice to avoid over-chilling it.
3. It's Better to Use Smaller Glass for White Wine
The reason why white wine is recommended to be poured in a small glass is to keep the liquid's temperature. This is done to maintain the flavor of the alcoholic beverage. Unlike red wine, it doesn't need to be exposed to much oxygen.
4. It Would Be Best if You Used Wider Glass for Red Wine
When drinking red wine, it's better to use a wider glass to expose the liquid's surface to the oxygen even more. This can oxidize the wine and develop the taste to fully enjoy the flavor.
5. Hold the Glass on the Stem
It's not about looking sophisticated while drinking wine, but more to prevent your body temperature from warming up the wine and dulling the flavor. Holding the glass by the stem can also help avoid greasy fingerprints on the glass surface to make it look unpleasant.
6. Wait Before Sipping
There is no need to rush when drinking wine. Let it have contact with the air after being stored for a long time. This process is called decanting, and it will help you to enjoy the flavor to its fullest. While waiting, you can swirl and sniff your wine first.
7. Swirl and Sniff First Before Drinking Wine
Before sipping and savoring the wine's flavor, it's recommended to swirl your wine to allow it to be exposed to the air and release its scent. It can also help to blend the wine better. After that, you can try inhaling the aroma by putting your nose above the glass. 
If you find it difficult to swirl your wine, you can always place the wine in a cognac glass that has a wider bowl. It can make swirling the alcoholic beverage easier for you.
8. No Need to be Stern on the Food Pairing
You might have heard the sacred rules of "only pair red wine with steak" and "only drink white wine with fish". You don't need to follow this rigidly. It all depends on the wine's character and flavor profile.
If you think a specific white wine can pair well with steak or a particular fish tastes better with red wine, then do it! You can pair any food with any wine as long as it suits your palate and is not harmful to your health.
9. Not All Screw-Capped Wines Are Bad
It is a popular misconception that screw-capped wines are more inferior to corked wines. Some even believe that they are bad. These beliefs aren't accurate at all! Once again, it all depends on preference. 
Fresh wines, or wines aged under a year or two, are more suitable to be sealed with a screw cap than a cork. Besides, it's more practical to open a screw-capped wine than a corked one.
10. Don't Be Shy to Ask the Sommelier
You don't need to be afraid to ask for some recommendations from the sommelier. They will gladly help you to choose the best wine that matches your liking. They might give you some fantastic tips or hacks for drinking wine!
11. Only Sampling Wine isn't Enough
You might prefer just to drink the wine samples to understand the flavor of each brand. But, you should buy a whole bottle rather than just enjoying the samples. The flavor of the wine can be very different in every sip, and you might even find the taste to be very distinct from the first time you drank it.
12. Always Try Different Varieties and Brands
One red wine can have a different flavor from another, and the same thing applies to white wine. The difference isn't only in the type of wine, but also in the origin of it! Different locations and types of grapes can play a part in building a distinct flavor, so be sure to try each brand of red or white wine to understand the red or white wine that you like.
How to Store Your Wine?
To better experience drinking wine, you should always pay attention to how you store the alcoholic beverage. Since it will decrease the temperature when poured in a glass, it's better to store your wine at a temperature less than one or two degrees than the label suggests.
Always put your wine in a dark and cool place. Don't forget to position it horizontally to keep the cork moist. When you have uncorked or unscrew the seal, the wine has to be finished within a day.
At the End of the Day
Just drink the wine that suits your palate the most and drink your wine in any way you like, either with friends or alone. In the end, it's all about enjoying the taste and experience. But, don't consume it too much. Sip it slowly and try savoring the flavor on your tongue slowly. It's even better to pair the wine with meals!
Learn more about different types of wine and go wine tasting. Please don't be shy to try various brands to understand your preference better, or you can always visit the nearest Red & White liquor store and get our store assistant's recommendation that matches your liking the most!