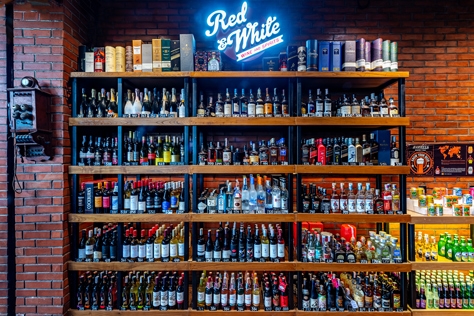 Every year, Whisky Magazine runs the World Whiskies Awards to commend the best whiskeys of the season. The publication categorizes every whiskey and gives a chance for each specific type of whiskey to shine. This year's World Whiskies Awards took place earlier this year in March, and marked the first in-person event since the pandemic struck. The World Whiskies Awards isn't the only establishment to rank this particular type of liquor. Other publications, such as Luxe Digital and Liquor Laboratory to name a few, also provide their own versions of what's best. If you're ever in a pinch, or wondering which kind of whiskey to purchase, you can consult our compiled list of high-ranking whiskeys from across the world.
World's Best Kentucky Single Barrel Bourbon
Blanton's The Original Kentucky Single Barrel Bourbon
This bottle contains sweet notes of honey, pine nuts, and citrus. Its nose is made up of banana, orange peel, and butterscotch smells.
This whiskey is available at Red & White.
World's Best Japanese Blended Whisky
The Akkeshi Blended Whisky
Hailing from Shosho Japan, this medium-bodied whisky contains 45% ABV. It also won the same category in 2021.
This Japanese whisky carries flavours of malt, almonds, and dried fruits. Its scents are woody and slightly smoky.
World's Best Irish Grain Whiskey
The Whistler Mosaic Marsala Cask
Produced by Boann Distillery in Ireland, this world-ranking whiskey contains vanilla notes, with hints of stone fruit and coconut. It's sweet, like desserts in your mouth!
World's Best Dutch Rye Whisky
Millstone 100 Rye Whisky
Aged for up to 12 years, this Dutch whisky is light, with a tiny bit of spicy on the tongue. Its scents are slightly floral.
World's Best French Blended Malt
Alfred Giraud French Malt Whisky
With refreshing notes of citrus and nuts on the nose, and the sweetness of honey, cinnamon, vanilla, and ginger on the palate, this French malt whisky contains 45.9% ABV.
General Consensus
Best Tasting Whisky
Johnnie Walker Blue Label
Perhaps the most sought-after Johnnie Walker label, the blue label reminisces on the original Old Highland Whisky created by Alexander Walker in 1867.
It's rich in flavours. Honey, hazelnut, and sherry are at the forefront, with hints of chocolate and honey, and a soft, smoky aftertaste.
This whisky is available at Red & White.
Best Japanese Whisky
Yamazaki 12 Years Single Malt Whisky
This flagship single malt whisky of the renowned Suntory Japanese whisky brand is aged for exactly 12 years. It tastes of butter, coconuts, and cranberry, while smelling of tropical fruits. You can catch whiffs of pineapple, peaches, grapefruits, and hints of vanilla.
This whisky is available at Red & White.
Best Whisky to Use in Cocktails
Monkey Shoulder
Its soft notes and overall smoothness make Monkey Shoulder ideal for mixing in cocktails. It blends well with other ingredients, with its own characteristics of vanilla and toffee flavours with an oaky nose.
This whisky is available at Red & White.
Best Whisky to Drink Straight
Glenfiddich Bourbon Barrel Reserve 14 Year
In one bottle, this whisky contains complex flavours of currants, honey, and biscuits. Meanwhile, its notes give off blackberries, lacquered oak, and caramel scents, to name a few.
The combination of flavours makes Glenfiddich Bourbon the best to consume neat, in order to appreciate all the tastes on the palate.
Best Value Whisky
Macallan 12 Year Double Cask
Combining the classic Macallan aging process with aging in American casks, this single malt offers the best value for its price.
This whisky is available at Red & White.