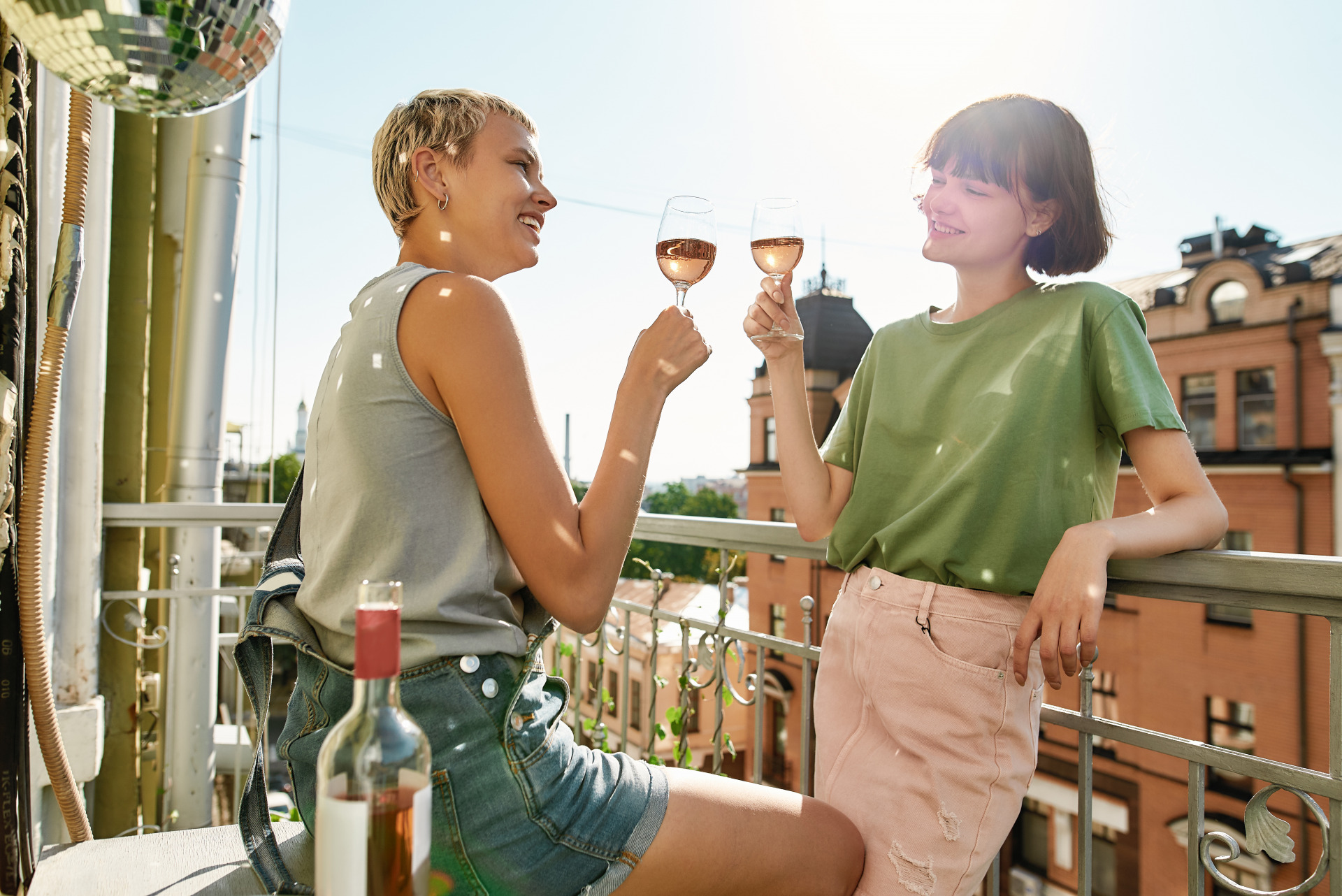 Rosé All Day: Behind the Brunchtime Beverage
Though everyone's favourite blush pink wine has been around since ancient Greece, it seems to have regained popularity in the past decade or so. Rosé makes an appearance at brunch and other social gatherings. It's even attributed to the new shade that everyone is calling "rose gold." Although this drink may be associated with women, it being considered a more feminine type of wine solely because of its colour, it's there for anyone to enjoy. You may be wondering what the difference is between rosé and regular wine. How does it get its signature pink colour? And what makes this beverage so special? Read on to learn more about rosé in all its ways.
What is rosé?
If you're unfamiliar with this drink, rosé is a type of wine separate to the two general categories of wine—red and white. While wines are usually named based on the type of grape used in the bottle, rosé is not a kind of grape.
A bottle of rosé is normally a blend of several grapes, both red and white depending on the winemaker.
Rosé's selling point is that it has a special shade of pink.
History of rosé
Have you ever wondered which innovator first discovered that wine can be pink? Well, unfortunately, there is no concrete answer to that.
The history behind how rosé came to be varies. Some accounts have claimed that rosé originated in ancient Greek times. Before meetings, red wine would be diluted with water in order to lessen the alcohol content. This is in the hopes of causing less fights to break out due to intoxication.
As time progressed, this shade of wine found its home in Bordeaux, France. However, even then, the shade of the drink was still darker than the rosés we know today.
The production of this light wine continued to evolve until the 19th century, when it found its way to California. Popularity continued to rise as rosé became mass-produced.
How does rosé get its shade?
Making rosé essentially involves the same steps as making other kinds of wine. The only difference is in how to get its colour just right. There are three methods in which winemakers can achieve the perfect rosy shade.
1. Maceration
Every wine gets its colours from the skin of the grapes used. The instance in which grape skin comes in contact with the grape juice is called "maceration." Red wine grapes that are left to sit in clearer grape juice will create a pinkish hue in the liquid over time.
In the usual winemaking process, maceration can take months to complete. In contrast, with rosé, this can be done within a few hours.
A short maceration process doesn't give the red grape skin time to soak in the wine; therefore there is not much time to get the colours to transfer.
Rosé is macerated in just enough time for the wine to turn the desired shade of pink.
2. Blending
Another method to obtain rosés signature pinkish hue is blending. This is when red wine is combined with white wine.
There is usually about 5% of red wine used in a bottle of blended rosé.
3. Saignée
In addition to maceration and blending, winemakers will often choose the "saignée" method, which is often referred to as "bleeding."
Using this method, wine makers will take some of the juice that is in production to create red wine, which is already red in colour, and "bleed" it into a different vat of wine.
This process does not only create the pink shade; it also results in a more concentrated taste from the original red wine.
What grapes are used in rosé?
Most rosés are made from red wine grapes. These include, but aren't limited to:
-Cabernet sauvignon
-Malbec
-Pinot noir
-Merlot
-Zinfandel
-Grenache
How do you enjoy rosé?
Rosé is a light wine, not only in colour but also in taste. This makes it an ideal drink for the warmer seasons.
It's better to serve your rosé chilled. This way, it can accompany a good picnic, barbecue, or even just a lazy summer day lounging in the garden.
Types of rosé
Although rosé falls under the wine category, there are multiple sub-categories of this delicious drink. Rosé is usually classified based on the grapes that are predominantly used to make the bottle.
Below are just seven of the many different types of rosé.
1. Grenache rosé
This type of drink is made from—you guessed it—grenache grapes. These grapes are particularly juicy, and results in a full-bodied wine.
Grenache rosé available at Red & White:
-Roche Mazet Rosé Cinsault Grenache
-Whispering Angel
2. Syrah rosé
The syrah rosé is coloured a deeper shade of pink than most bottles. It is made from syrah grapes and contains bold flavours of strawberries, olives, and pepper.
This wine is best consumed with pasta or vegetables, and it doesn't need to be enjoyed chilled.
Syrah rosé available at Red & White:
-Roche Mazet Syrah Rosé
3. Provence rosé
If you're ever serving fish, seafood, or other white meats, this rosé is the one for you.
Made from, Syrah, Cinsault, and Mourvèdre grapes, this rosé is dryer than others in the market.
Provence rosé available at Red & White:
-Domaine de Tamary Cotes de Provence Rosé
-Rock Angel Rosé
4. Zinfandel rosé
This is perhaps the most famous type of rosé, known for being the pinkest and the cheapest. It's also known as the White Zinfandel.
If the Provence rosé is dry, the Zinfandel is on the opposite end of the spectrum. It boasts sweet strawberry, lemon, and melon flavours.
Zinfandel rosé available at Red & White:
-Robert Mondavi Woodbridge White Zinfandel
-Beringer Sparkling White Zinfandel