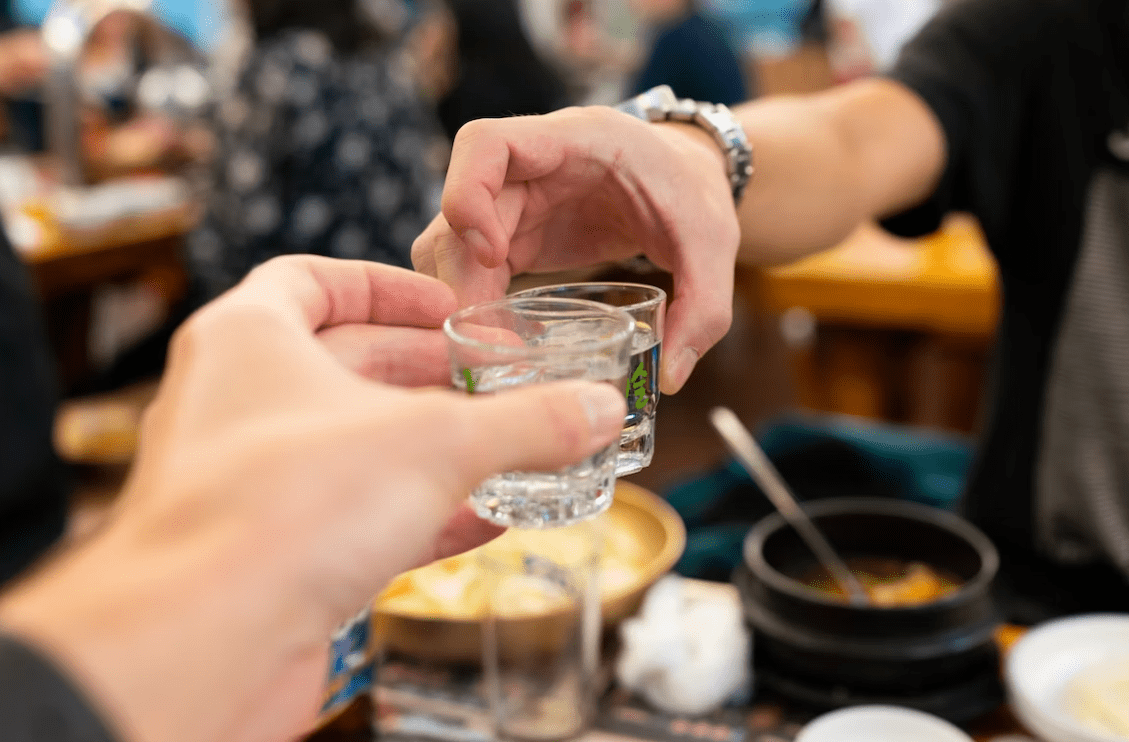 7 Sensational Soju Mix Recipes to Elevate Your Cocktail Game
Soju mix cocktails have been taking the world by storm. With its smooth and versatile taste, it's no wonder that soju has become a favourite among mixologists and casual drinkers alike. If you're looking to spice up your next party, try these sensational soju mix recipes that will have your guests talking about them long after the party's over!
Soju watermelon slushie
Nothing can be more hydrating than this soju mix featuring a beloved summer fruit. To make your own, you'll need:
1 cup cubed watermelon

¼ cup soju

1 cup ice

1 tablespoon sugar

Fresh mint leaves for garnish
Blend the watermelon, soju, ice, and sugar in a blender until smooth. Then, pour the soju mix into a glass, garnish with fresh mint leaves, and serve immediately. If you're not a fan of sweet, you can also opt to not use the sugar.
Soju citrus spritz
Looking for a refreshing soju mix? The soju citrus spritz may be the perfect drink for you. All you need is:
1.5 oz soju

1 oz fresh grapefruit juice

1 oz fresh lime juice

Club soda

Grapefruit or lime wedge for garnish
First, fill a glass with ice, then, pour soju, grapefruit juice, and lime juice over the ice. Top the soju mix off with club soda for that extra fizziness, and garnish with a grapefruit or lemon wedge.
Soju mojito
Normally, mojito would require white rum. But more often than not when it comes to mixology, you make up the rules! Substitute the white rum for soju and make yourself a tasty soju mix. You'll need:
2oz soju

½ lime, cut into wedges

Fresh mint leaves

1 teaspoon sugar

Club soda
Muddle the lime wedges, mint leaves, and sugar in a glass. Then, pour over the soju and fill up the glass the rest of the way with ice. Top off this soju mix with club soda and give it a gentle stir. Garnish with more mint leaves for that perfect aesthetic.
Soju sunrise
If you're feeling adventurous, you can make a soju version of a tequila sunrise. Soju's clear taste makes it the perfect alcohol to use as subs. Just switch out tequila for soju, and add in these ingredients:
2oz soju

4oz orange juice

½oz grenadine syrup

Orange slice or cherry for garnish
Fill up a glass with ice. Pour soju and orange juice over the ice, and then slowly drizzle in the grenadine syrup. Let the red grenadine settle at the bottom of the glass to create that sunrise gradation effect. Garnish the soju mix with an orange slice or cherry, and you're all set!
Spicy soju Bloody Mary
Who says Bloody Marys can only feature vodka? Soju makes the perfect Bloody Mary base too! Just gather the following ingredients to make your own spicy soju Bloody Mary mix:
2oz soju

4oz tomato juice

½oz fresh lemon juice

1 teaspoon Worcestershire sauce

1 teaspoon hot sauce

1 pinch ground black pepper

1 pinch smoked paprika

1 pinch sea salt

Celery stick and olives for garnish
Combine all the ingredients save for the garnish in a shaker filled with ice. Shake well and strain the soju mix into a glass filled with ice. Garnish with a celery stick and olives for that Bloody Mary finish. 
Soju berry smash
Berry lovers, this one's for you! Mix these ingredients to make for your ultimate summer drink:
2oz soju

½ cup mixed berries (fresh or frozen)

½oz simple syrup

½ oz fresh lemon juice

Club soda
Muddle the mixed berries in a glass. Add soju, simple syrup, and lemon juice, and then fill the glass  with ice. Top the soju mix off with club soda and give it a gentle stir.
Soju ginger fizz
Need more of a kick after that spicy soju Bloody Mary? This soju mix is the one for you. All you need to make it is:
2oz soju

3oz ginger beer

½ oz fresh lime juice

Lime wheel or candied ginger for garnish
Fill a glass with ice and pour soju and lime juice over it. Top the soju mix off with ginger beer and stir gently. Garnish with a lime wheel or a piece of candied ginger. Now all that's left to do is enjoy your refreshing soju mix!
With an extensive selection of brands and flavors, Red & White offers the perfect options to elevate your cocktail game. Whether you're a seasoned mixologist or a casual enthusiast, you'll find everything you need to craft these delectable soju mix recipes. Shop at Red & White Store and get ready to impress your guests with refreshing and creative soju cocktails. Cheers to a memorable and flavorful experience!