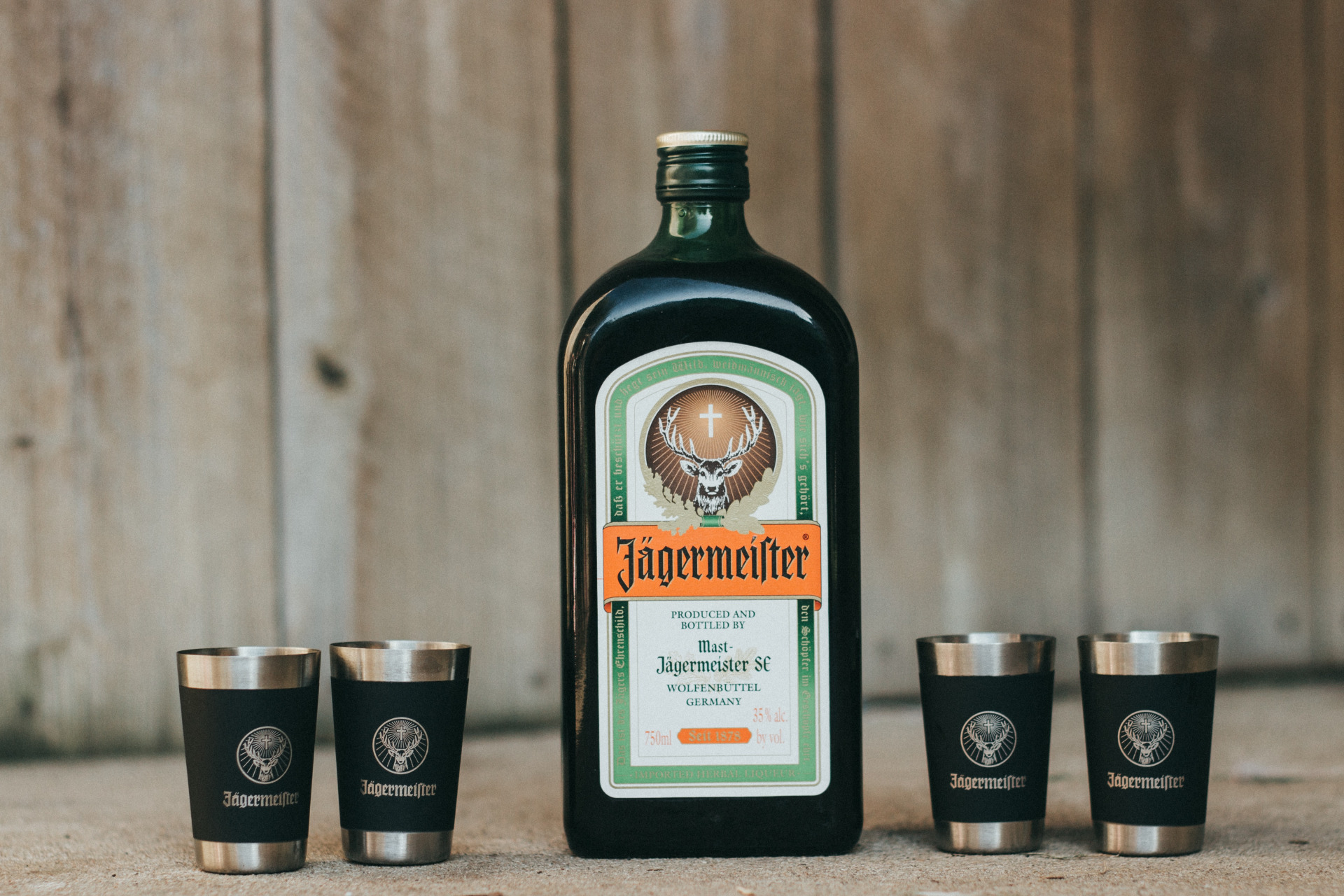 The History of Jägermeister
It's a favourite in bars and frat parties. It's often consumed in a shot, or in a bomb with Red Bull. Its dark shade, syrupy consistency, and strong herbal flavours have been around for centuries. It's the world-famous Jägermeister! Many consume this alcoholic drink without even knowing what it actually is. Its reputation precedes it. Even if you haven't tried Jägermeister for yourself, you will know it by the iconic green bottle and gothic branding. You may have heard about Jäger bombs too. But what exactly is Jägermeister? Is it really that high in ABV? How did it come to be one of the most popular alcoholic drinks? The brand has a long and complex history behind its renown, and we're taking a look at how this German liqueur came to be.
What exactly is Jägermeister?
Jägermeister is a brand of herbal liqueur which tastes primarily of anise and black licorice.
It contains 35% ABV. While it's commonly served in shots, Jägermeister is actually a digestif, meaning it's consumed to help with the digestive system.
Because of the many herbs and spices involved, a shot of Jägermeister, fondly referred to as Jäger, smells pretty medicinal.
In English, Jägermeister literally translates to "master of the hunt." It is said to be named as such because the inventor of the drink was a hunter.
It all started from vinegar
Judging from the way the drink tastes now, nobody will have guessed that it all began in a vinegar plant.
In 1870, a German entrepreneur named Wilhelm Mast moved to Wolfenbüttel, Germany, to start his own business. He began producing vinegar in his own plant in 1978. Although he was focused on vinegar, Mast also knew quite a bit about fine wines.
In 1918, Wilhelm's son Curt took over the company and production after he fell ill. The company was facing debt, so Curt decided to shift directions. Instead of vinegar, they began producing wine.
Over the next 20 years or so, Curt was adamant on getting just the right recipe for his special liqueur. Finally, in 1934, the Jägermeister was born.
56 different ingredients
To create his masterpiece, Curt Mast used 56 different roots, herbs, fruits, spices, and seeds.
The brand has been around for 88 years now, but the recipe has been well-guarded. Nobody knows exactly what these ingredients are. Even the global marketing director for Jägermeister admits he isn't aware of the ingredients in the drink!
Deriving from the taste alone, Jägermeister is believed to contain poppy seeds, juniper berries, star anise, and saffron.
Production process
Great care and measures are taken to produce a bottle of Jägermeister.
Each ingredient is precisely measured out and made into a dry mixture, which is then combined in water and alcohol. This mix is left to sit for a few weeks in the maceration process, during which time the natural oils and flavours from the spices seep out. This results in macerates, which are then mixed in with other basic materials.
Afterwards, the drink is aged in the 455 oak casks in the Wolfenbüttel cellar. Maturation time for Jägermeister takes about a year. Over this period of time, distillers continue to keep an eye on the progress, making sure there is a consistent taste across every cask.
The next step is where the Jäger achieves its sweet, licorice taste. Liquid from the casks are mixed in with alcohol, water, liquid sugar, and caramelised sugar. Then, it's off to be bottled!
Branding turned into controversy
Because Curt Mast was an avid hunter, he incorporated aspects of hunting into the branding for Jägermeister.
The logo features a haloed deer head with a cross above the antlers. This refers to St. Hubert, believed to be the patron saint of hunters.
Additionally, the German text on the label is a hunting-related poem by Otto von Riesenthal. In English, it roughly translates to:
"This is the hunter's badge of glory
That he protects and tends his quarry
Hunts with honour, as is due
And through the beast to God is true
So before you go hunting tonight
Make sure you have an ice cold shot of Jägermeister"
While certainly unique, this branding created some controversy. Between the deer head, the poem, and a name that relates to hunting, rumours and stories were spun, believing that the drink was made with deer blood.
However, this didn't seem to impact much on Jägermeister's reputation. If anything, the controversy may have made the drink that much more attractive.
Despite this story being a rumour, the company has very recently come forward saying that their drink is entirely vegan.
Vegan alcohol = healthy?
Because Jägermeister is vegan and made of a blend of herbs and spices, it only makes sense for the public to form the opinion that Jäger is healthy. However, as it is with any kind of alcohol, too much can lead to health damage.
There are several health benefits in Jägermeister if consumed moderately.
1. Reduced risk of cardiovascular diseases
Jägermeister joins a list of other alcoholic beverages which have the potential to reduce the risk of heart diseases like strokes.
Studies up to this point have suggested that when consumed moderately, Jäger helps stop arteries in the human brain from narrowing.
2. Lowered risk of inflammation
Ingredients in Jägermeister, particularly anise and cloves, are rich in eugenol, an anti-inflammatory compound.
Eugenol has the ability to prevent inflammatory responses in the body. Additionally, clove oils in the drink may potentially prevent arthritis and heart diseases.
3. Cold shots
Because of the drink's complex herbal taste, it's highly recommended to serve Jäger cold. And not just any kind of cold—super cold!
The company recommends consuming Jäger shots that are -18 degrees Celcius in temperature! The cold brings out more of the sweetness and flavours of the drink.
As you explore the fascinating history and unique flavor profile of Jägermeister and other exceptional liquors, Red & White is your premier destination for quality libations. Our extensive selection includes this iconic herbal liqueur and a diverse range of spirits and liquors. Visit our nearby liquor store to discover the world of Jägermeister and find the perfect drink for your social gatherings and occasions. Cheers to savoring the complexity and heritage of this renowned drink and to exploring a wide array of libations that cater to every taste.