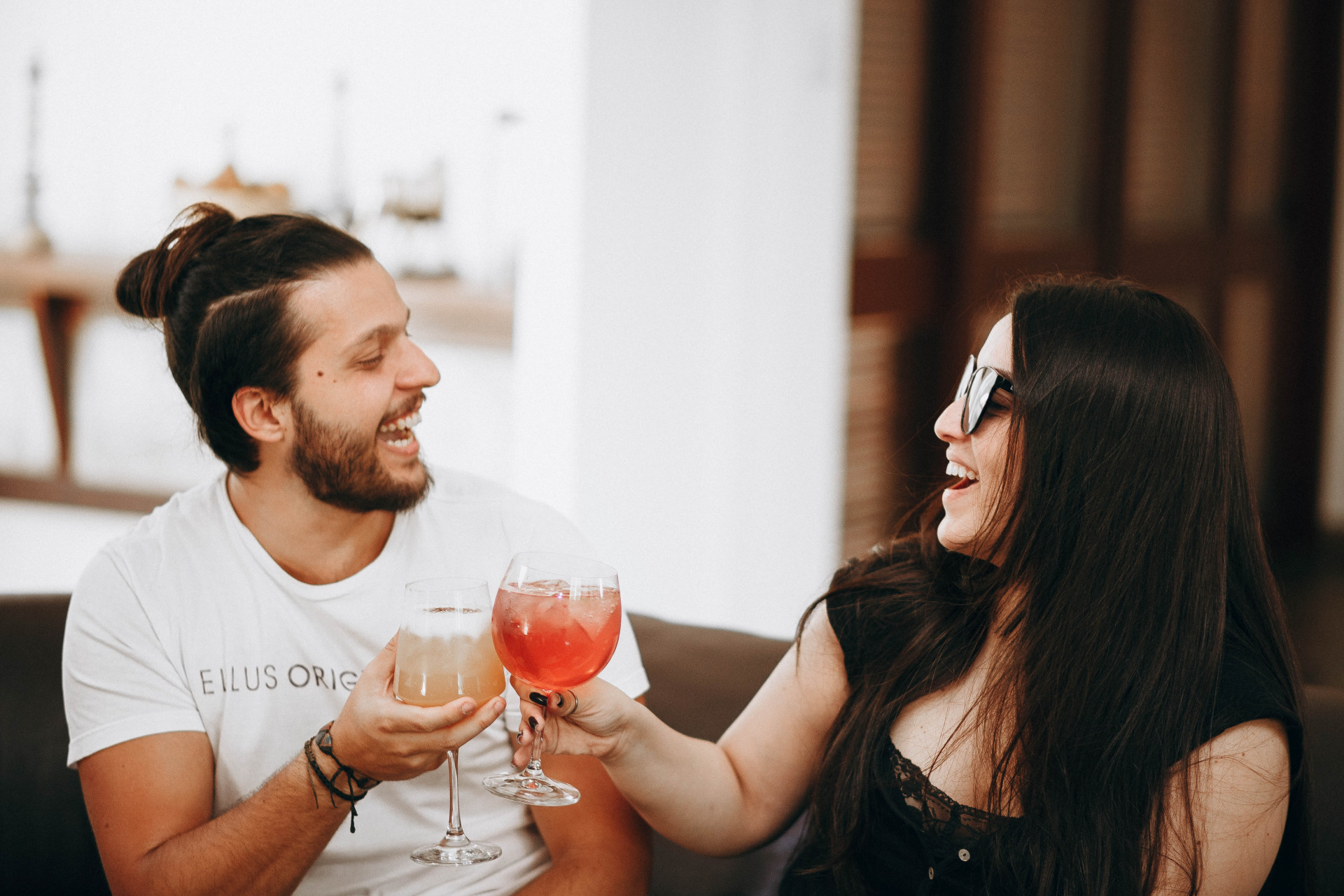 Gin Cocktail Recipes to Try at Home
If you've read up on our guide to the basics of mixology, this is the perfect time for you to start practicing at home. We've provided a collection of vodka cocktail recipes which you can try out, but if you're looking to switch up the alcohol, this is the right list for you. Gin is another versatile and neutral alcohol. Similar to vodka, it's pretty much tasteless, allowing the flavours in your mixers to really shine through. If you're making cocktails to entertain guests, gin is the perfect base for many fun drinks that everyone can enjoy. So what are you waiting for? Grab your shakers and ice and get started on your first cocktail.
The big three
For budding at-home mixologists, these three gin cocktails are the first ones you should master. They are simple, classic, and are easily put together with ingredients you can find in your liquor cabinet.
Gin and tonic
Also known as the G&T, this timeless cocktail is made of only three ingredients. It's an idiot-proof recipe, and guaranteed to be delicious. To make your own, you will need:
Gin
Tonic water
Optional slice of lime for garnish
All you need to do is stir your liquids in a glass and top it off with garnish. The common ratio for gin and tonic is 1 part gin to 2 parts tonic water, but you can always mix it up depending how strong you want your drink to be.
Negroni
If you're looking for a bittersweet drink, you may want to attempt this Italian cocktail, the negroni. Ingredients for this drink are:
Gin
Campari
Vermouth
Orange peel
This drink should be stirred together and is best served on the rocks. Twist the orange peel over the drink for some extra zest before placing it in the glass as garnish. 
Gin martini
We've showed you the recipe for a vodka martini, but the classic martini actually uses gin instead of vodka. In fact, the International Bartender's Association (IBA) recognizes the gin martini as the exact definition of a real martini. For this classic cocktail, stir together in a glass:
And that's it!
More gin cocktails
Aside from these classics, you can have a little more fun with the following highballs. These next ones are more diverse in taste, showcasing the mixers' fruity, tangy, and light flavours.
Gimlet
This light and refreshing drink requires only two ingredients. It's easy to throw together, and perfect if you're entertaining several guests on your own. In a glass, stir:
Gin

Cordial of your choice (lime is recommended)
Make sure you stir thoroughly to dilute all the flavours together. Add a slice of lime for garnish. 
Tom Collins
This is one of the only cocktails named after a person. It is said to have been invented by a waiter in London named Tom Collins. Here's what he put in the drink:
Gin
Soda water
Lemon juice
Simple syrup
For this highball, you'll want to shake instead of stir. Gin, lemon juice, syrup, and ice goes in the shaker. Strain the mix and then add your soda water. You can garnish the drink with maraschino cherries.
French 75
Named after a field gun that was used during World War I, the French 75 hits the bullseye in terms of flavour. This drink uses less amount of spirits so that you can savour in its tangy and fizzy sensations. Ingredients for the French 75 are:
Gin
Lemon juice
Simple syrup
A cold fizzy drink (such as tonic water or soda), or champagne if you're feeling fancy
Mix the first three ingredients in a champagne flute, then pour your choice of fizz over the top. And voila! You have your French 75.
Bramble
Bramble is a fun, fruity cocktail that is perfect for the summer. It's just the right amount of light and sweet, ideal for an outdoor party or a day by the pool. To make your own, you will need:
Gin
Lemon juice
Crème de mure
Sugar syrup
Crushed ice
Lemon zest and/or berries for garnish
Adjust the amount of each ingredient you use depending on your preference. Add extra lemon juice if you're looking for a more sour taste, or a little more sugar syrup if you're a fan of sweet drinks. Shake together gin, sugar syrup, and lemon juice. Pour the concoction over crushed ice, then splash some crème de mure over the drink. Top with your choice of garnish.
Gin punch
This recipe will get your summer party started. It's a new take on your regular spiked punch and is sure to impress your guests. You'll need:
Gin
Pineapple juice
Elderflower cordial
Soda water
Limes
Cut pineapples
Mint leaves
Throw all the ingredients together in a large bowl, adjusting the amount of each depending on the flavours you're going for.
Ginsecco
Here's an upcoming cocktail trend you can try out. As you can probably guess from the name, a ginsecco mixes gin with prosecco, along with a few other ingredients. Create a ginsecco by shaking together:
Gin
Prosecco
Cloudy apple juice
Elderflower cordial
Cinnamon stick
Crushed ice
Strain the drink into a cocktail glass, add in more prosecco, and garnish with thin apple slices. Then step out onto the patio and enjoy your bubbly drink!
Fogcutter
Last but not least is the fogcutter. It's a fancier, much boozier cocktail that packs a punch. A glass of fogcutter contains:
Gin
Rum
Brandy
Sherry
Lemon juice
Orange juice
Almond syrup
Pour everything except the sherry into a shaker and shake well. Then, stir the concoction to further incorporate all the ingredients together. Pour the drink into a tall glass with ice and pour the sherry over the top.