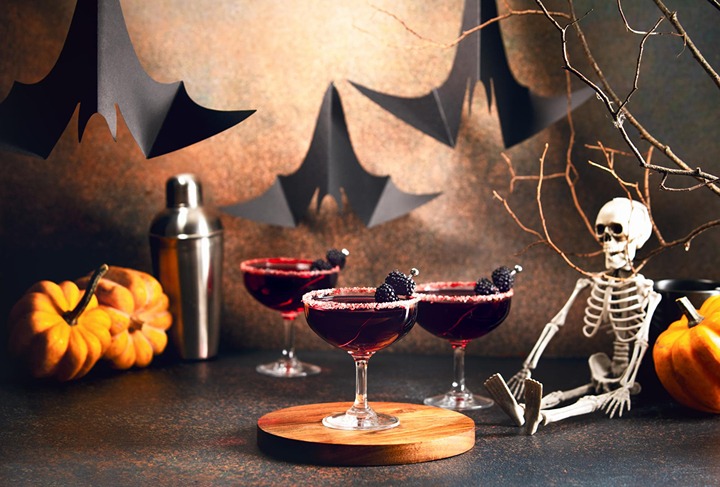 Spooky Sips: Halloween Cocktail Recipes to Haunt Your Taste Buds
Halloween is lurking around the corner, and it's time to conjure up some spine-tingling spirits to celebrate this eerie occasion. Whether you're hosting a ghostly gathering or just looking to enjoy a chilling libation, we've got the perfect potions for you. Brace yourself for a hair-raising journey through our ghoulishly good Halloween cocktail recipes!
Blood-Orange Margarita 
Prepare to be spellbound by the Blood-Orange Margarita. This chilling concoction combines the zesty allure of tequila, the citrusy embrace of blood-orange, and a hint of sweetness. What sets it apart? A few drops of sinister red gel food coloring transform it into a hauntingly beautiful, blood-red elixir.
Make your own Halloween cocktail using:
2 oz tequila
1 oz triple sec
1 oz fresh blood-orange juice
1/2 oz lime juice
1/2 oz simple syrup
Red gel food coloring
Salt for rimming
Blood-orange slice for garnish
Rim a glass with salt using a blood-orange slice, then fill the glass with ice. In a shaker, combine tequila, triple sec, blood-orange juice, lime juice, and simple syrup. Add red gel food coloring for that eerie hue. Shake well and strain into the glass. Garnish with a slice of blood-orange to finish.
This Blood-Orange Margarita offers a tantalizing blend of tangy citrus and the warmth of tequila, with a shockingly vivid red color that's sure to send shivers down your spine!
Witch's Brew Punch
Get ready to be enchanted by the Witch's Brew Punch! This bewitching brew combines the dark magic of rum with the spellbinding hues of blue curaçao and the tropical allure of pineapple and orange juice. The secret ingredient is a touch of grenadine for that eerie, bubbling cauldron effect.
Conjure up a Witch's Brew Punch with:
2 oz dark rum
1 oz blue curaçao
1 oz pineapple juice
1 oz orange juice
1/2 oz lime juice
1/2 oz grenadine
Crushed ice
Gummy worms for garnish
First, fill a glass with crushed ice. Next, in a shaker, combine dark rum, blue curaçao, pineapple juice, orange juice, lime juice, and grenadine.  Shake vigorously and strain into the glass.
Garnish with gummy worms crawling out of the "brew."
The Witch's Brew Punch creates tropical flavors with a bewitching blue twist. The gummy worms add a creepy-crawly touch to this potent potion.
Jack-O'-Lantern Punch 
Introducing the Jack-O'-Lantern Punch – a liquid tribute to the season of pumpkin-spiced everything! This enchanting elixir combines spiced rum, velvety pumpkin puree, maple syrup, and a dash of lemon juice. You get a cozy, autumnal cocktail that tastes like a sip of pumpkin pie!
Get warmed up by gathering:
2 oz spiced rum
1 oz pumpkin puree
1 oz maple syrup
1/2 oz lemon juice
Dash of cinnamon
Ice cubes
Orange twist for garnish
In a shaker, combine spiced rum, pumpkin puree, maple syrup, lemon juice, and a dash of cinnamon. Shake well until all ingredients are thoroughly mixed, then strain the mixture into a glass filled with ice cubes. Garnish with an orange twist, shaped like a mini jack-o'-lantern face.
This drink is a warm, comforting delight with the spiciness of rum and the sweet caress of pumpkin and maple. It's like a slice of autumn in a glass!
Black Widow Martini 
Prepare to be entranced by the enigmatic Black Widow Martini! This dark and mysterious elixir combines black vodka with the seductive flavors of black raspberry liqueur and a dash of cranberry juice. Its hauntingly beautiful appearance is completed with a spider's web garnish made of black licorice lace.
Create your Black Widow Martini with:
2 oz black vodka
1 oz black raspberry liqueur
1/2 oz cranberry juice
Ice cubes
Black licorice lace for garnish
Start off this Halloween cocktail by filling a shaker with ice cubes. Pour in black vodka, black raspberry liqueur, and cranberry juice. Shake vigorously until well-chilled and strain into a chilled martini glass. Garnish with a black licorice lace, resembling a spider's web.
This Halloween cocktail is a mesmerizing, dark elixir that combines the rich flavors of black vodka and black raspberry liqueur, with a hint of tartness from cranberry juice. It's a hauntingly beautiful cocktail.
These Halloween cocktails are not only a treat for your taste buds but also a fantastic way to set the eerie mood for your Halloween festivities. Whether you're sipping a Blood-Orange Margarita, indulging in Witch's Brew Punch, relishing a Jack-O'-Lantern Punch, or sipping a Black Widow Martini, your Halloween celebration is sure to be a chilling success. So, get ready to raise your glass to all things spooky, and enjoy these spine-tingling concoctions with your fellow witches and ghouls.
Looking to craft spine-tingling cocktails this Halloween? Head to Red & White for all the eerie elixirs you need. From tequila to black vodka, we've got you covered. Stock up and transform your gathering into a haunting success. Visit us today and toast to an extraordinary Halloween!