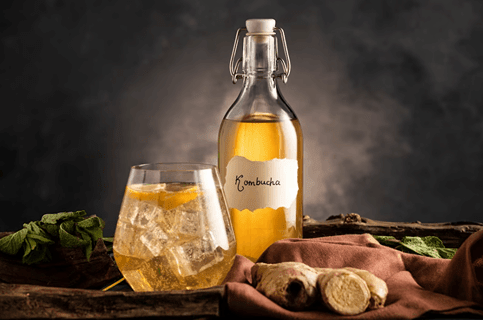 The Best Ginger Beer for a Moscow Mule
If you want to craft the perfect Moscow Mule, the choice of ginger beer you use is crucial. The classic cocktail relies on the zingy, spicy kick of ginger to complement the smoothness of vodka and the refreshing hint of lime. To help you elevate your Moscow Mule game, we've compiled a list of the best ginger beer brands that are just perfect for this iconic drink. So, grab your copper mug, and let's check out some of the best ginger beers for a Moscow Mule!
Fever Tree Ginger Beer
Fever-Tree has established itself as a go-to brand for high-quality mixers, and their ginger beer lives up to the reputation.
Made with a blend of three types of ginger from Nigeria, Cochin, and the Ivory Coast, this ginger beer brings a rich, robust flavour to your Moscow Mule. It offers a balanced sweetness and a fiery ginger kick, ensuring a tantalizing taste experience with every sip.
You can grab Fever-Tree ginger beers at any Red & White store, online at minuman.com, or at the minuman.com Superstore!
Goslings Stormy Ginger Beer
If you're looking for a ginger beer that can stand up to the boldness of the ingredients in a Moscow Mule, Goslings is an excellent choice.
Its assertive ginger flavour, combined with a touch of sweetness, creates a perfect harmony in the cocktail. It's also worth noting that Goslings has a long-standing association with the Dark n' Stormy cocktail, which shares some similarities with the Moscow Mule, making it a natural fit for ginger beer enthusiasts.
Q Ginger Beer
Q ginger beer prides itself on using all-natural ingredients and a unique blend of spices, making it a standout contender for your Moscow Mule.
The ginger flavour is vibrant and intense, with a spicy kick that complements the vodka and lime beautifully. With a well-balanced sweetness and a crisp, clean finish, Q adds depth and character to your cocktail without overpowering it.
Bundaberg Ginger Beer
Hailing from the land Down Under, Bundaberg offers a distinct ginger beer, with a flavour profile that sets it apart from the rest.
Brewed for over three days using real ginger, this Australian gem delivers a strong ginger punch with a hint of sweet. Its smooth and effervescent texture, coupled with its bold taste, makes it a reliable choice for a Moscow Mule that stands out from the crowd.
Crabbie's Original Alcoholic Ginger Beer
For those who prefer an alcoholic twist to their Moscow Mule, Crabbie's Original Alcoholic ginger beer is a fantastic option.
With a delightful blend of ginger, spices, and a touch of sweetness, this fizzy beverage provides an extra kick to your cocktail. The alcohol content adds depth and complexity, giving your Moscow Mule an exciting twist.
Why do these ginger beers work best in a Moscow Mule?
The key to a great Moscow Mule lies in finding a ginger beer that strikes the right balance between sweetness and spice. These top ginger beer brands excel in a providing a robust ginger flavour that cuts through the vodka, harmonizes with the tartness of lime, and enhances the overall taste.
Additionally, the carbonation and effervescence of ginger beer add a refreshing fizz that complements the cocktail's vibrant nature.
Choosing the right ginger beer for your Moscow Mule can make all the difference in creating a memorable cocktail experience. Whether you prefer a fiery ginger kick, a balanced sweetness, or an alcoholic twist, these top brands have you covered. So, the next time you mix up a Moscow Mule, grab one of these outstanding ginger beers and elevate your cocktail game to new heights!
Enhance your Moscow Mule with the ideal ginger beer from Red & White. Discover an array of liquor options at our shop, making us your ultimate destination for cocktail essentials. Elevate your mixology game by choosing Red & White for all your beverage needs.